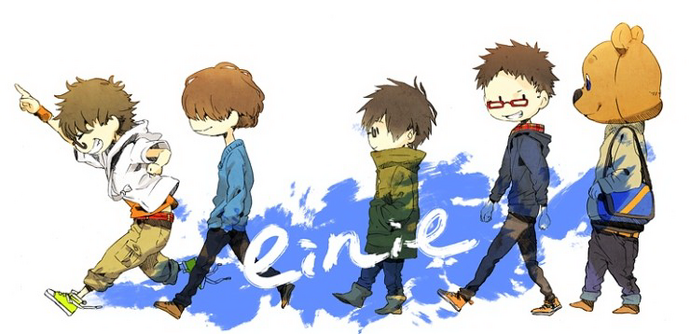 From left to right, natsushiro, Eve, nskw, iida, futa. Illust. by Kurono Kuro (くろのくろ)
einie as seen in their twitter banner.
einie (アイニー) is the Japanese indie band with 2 lead vocalists Natsushiro Takaaki and Eve. They compose and write lyrics for their own songs.
They went on hiatus on December 4, 2013, as nskw is taking a break from the band due to illness.[1]
Natsushiro Takaaki (Lead vocals & Composition)
Eve (Lead vocals & Composition)
iida (Arrangement & Guitar)
nskw (Arrangement & Guitar)
futa (Bass)
ueno (Art direction)
emumelo (Video direction & Editing)
List of Songs
Edit
Discography
Edit
References
Edit
All items (2)