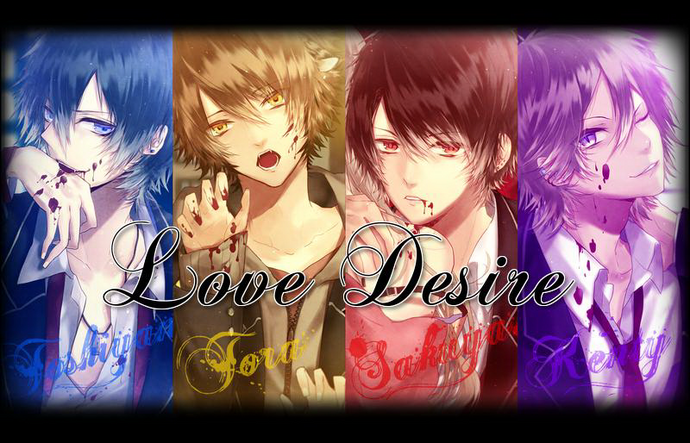 From left to right: Toshiyan, Tora*, Sakuya. and kenty (Illust. by Mizutama (水玉))
Love Desire is the group of 4 utaite who are active on TwitCasting, including Toshiyan (leader), Tora*, sakuya. and kenty.
The group has also toured bginning from 2015 onwards; they had 2 showcases in 2015 on August 15 in Osaka and on September 05 in Tokyo, while their latest tour, Sugar&spice, went through September 2018. Their first original album in which they wrote the lyrics came along with these lives before officially released on November 11, 2015.
The group has a cameo in the anime adaptation of the visual novel Kenka Banchou Otome: Girls Beat Boys as the group LD4. They also voice the characters and provide musoc for the anime.
List of Songs
Edit
"LOVE SLAVE"
"Koi no ABO" (Love of ABO) (2015.12.07)
"Setsuna Clover" (Original Song) (2016.04.13)
"Hibikase" (Resonate) (2016.12.01)
"Suisei Honeymoon" (Comet Honeymoon) (2017.06.03)
Discography
Edit
References
Edit
Trending pages
All items (5)
Community content is available under
CC-BY-SA
unless otherwise noted.