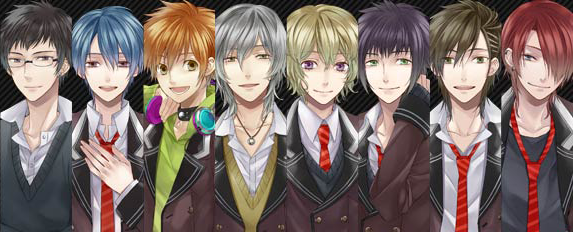 From left to right: Mikage Yuto (YU), Amachi Kaname (vipTenchou), Inukai Hajime (Kogeinu), Hitsujikawa Jun (Rumdarjun), Honokaze Tomohisa (ShounenT), Mutsu Seiji (Mucchi), Ichikata Keita (Kettaro) and Seto Yuma (Mi-chan)
The teachers (not pictured) are Namio Toru (clear), Nemoto Shiro (nero), Daniel Stevens Kurokawa (Dasoku) and Kitagawa Ren (【Ren】).
Smiley*2G or Smiley*2 Gakuen is part of St. Smiley Gakuen. The Utaite are in the role of a student council member or teacher. All the Utaite also have full names for their student or teacher representative. The circle released drama and vocal albums.
There is also a separate class, called Smiley*2GS.
ShounenT officially graduated from Smiley*2G on March 10, 2012.
It was officially announced on their website that they will all graduate after their last live on July 26th, 2015.
Links
[
]
List of Songs
[
]
Discography
[
]
---
Trending pages
All items (44)