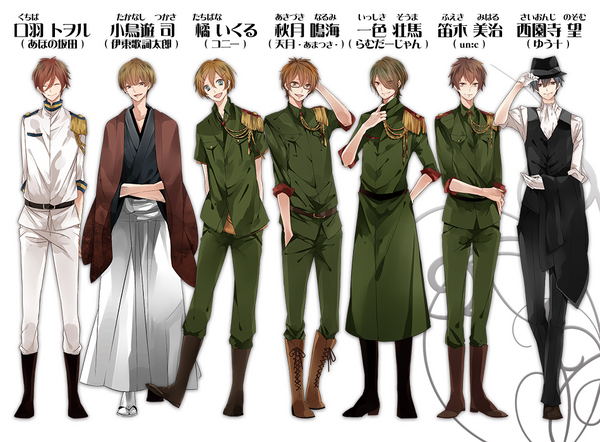 From left to right: Aho no Sakata, Itou Kashitarou, Kony, Amatsuki, Rumdarjun, un:c and Yuuto
Teito Hanayoi (帝都華宵) is a group, that frequently does lives and releases radio drama CDs.
The story is set in the Taishou era, with a group of students from an imperial army school, called "Teito Rikugunhei Gakkou" (帝都陸軍兵学校). However, due to the western influence, music, theatre, painting and literature became a popular culture. Every year, the school will hold a "Teito Hanayoi Opera" on the Sunday nearest to the day of Tanabata.
A few years since then, due to the depression during the World War, the society was thrown into insecurity and stagnancy.
Because of this, the hot-hearted and honest young man who loves music more than anyone else, Akizuki Narumi (秋月鳴海) and the young man who is trying to find a song to stop the war, Tachibana Ikuru (橘いくる), along with their clumsy friend who has the heart of a samurai, Takanashi Tsukasa (小鳥遊司), will depict their roads to adulthood with wavering hearts through dramas.
Akizuki Narumi (秋月鳴海) (Amatsuki)
He loves singing and befriending others. For the sake of reviving "Teito Hanayoi Opera", he enrolls into the Teito Rikugunhei Gakkou. His father is from a prestigious family and holds an influential spot in the imperial military. He is honest and hot-hearted, his personality is such that he will turn away from anything he dislikes.
Tachibana Ikuru (橘 いくる) (Kony)
He is Akizuki Narumi's best friend. He always brightens up everyone's moods. However, because of his mother who isn't a Japanese, he is only half-Japanese and is sent to an American middle school. They couldn't meet for a long time. He is peaceful and loving and he hates wars.
Takanashi Tsukasa (小鳥遊 司) (Kashitaro Ito)
He is Akizuki Narumi's friend, who always tells stories by the roadsides, a mysterious young man. He was once from an influencial family of warriors. He looks back at the time where there was freedom. He constantly thinks of his younger brother.
Fueki Miharu (笛木 美治) (un:c)
He is Akizuki Narumi and Tachibana Ikuru's senior. Because of a traumatizing past experience, he is wary of half-Japanese...?
Kuchiba Tooru (口羽 トヲル) (Aho no Sakata)
He is a mysterious transfer student in Teito Rikugunhei Gakkou. He has a loving personality. He fascinates everyone with his seven-coloured voice. But his true colours are...
Isshiki Souma (一色 壮馬) (Rumdarjun)
He is Akizuki Narumi and Tachibana Ikuru's senior. He has a mysterious and profound thinking. Because of the profound love he found in Akizuki Narumi, Tachibana Ikuru and other's singing, he holds a meeting for the sake of "Teito Hanayoi Opera"....
Asakura Aoi (朝倉 碧)
He is Akizuki Narumi and Tachibana Ikuru's junior. He has a quiet and shy personality but he loves singing. He likes a girl who once shouted to him after school one day, "You, from the second floor window!", but he is treated as a brother instead.
Saionji Nozomu (西園寺 望) (Yuuto)
He is an alumni of Teito Rikugunhei Gakkou. He is now employed as a teacher there.
Shinosuke (シンノスケ)
He is the watchdog of the Akizuki family. He has watched Narumi's growth.
Discography
Edit
---
Trending pages
All items (10)
Community content is available under
CC-BY-SA
unless otherwise noted.