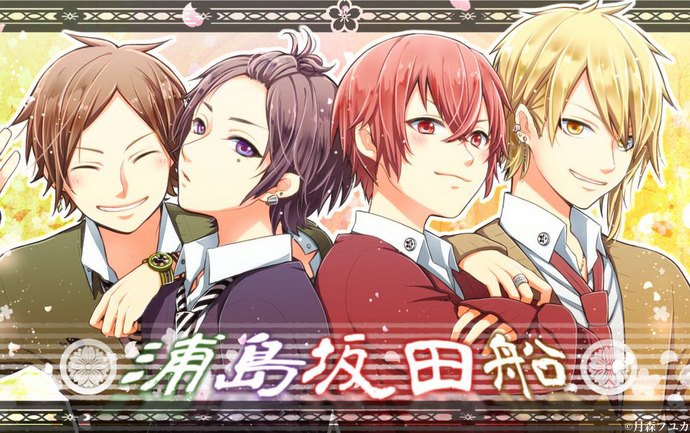 From left to right: Urata, Shima, Sakata and Senra (Illust. by Tsukimori Fuyuka (月森フユカ))
UraShimaSakataSen (浦島坂田船), or USSS for short, is a 4-unit indie pop boy group consisting of Urata (Green), Shima (Purple), Sakata (Red) and Senra (Yellow). They've teamed up in 2013 and opened at least one live tour each year. They also have their own commercial items such as the Gachapon or some merchandise in DEEN shop website. Also, they have a close relationship in real life.
In Spring 2017, USSS formed a fictional unit called "Fourpe" (フォープ Fōpu) under contract with NBCUniversal Entertainment Japan. In Fall 2019, the group received a short deformed animated comedy series, Days of Urashimasakatasen (浦島坂田船の日常 Urashimasakatasen no Nichijō).
USSS official illustrations are often drawn by the illustrator Tsukimori Fuyuka (月森フユカ) while most of their original songs are composed by the producer Sum.
Social Media
Edit
Official Websites
Edit
Commercially Featured
Edit
"SHOW MUST GO ON!!" as Fourpe - Released on April 26, 2017

2nd Opening of the TV anime

Starmyu




"Ashita e no Bye Bye" - Released on August 28, 2019
"Gotcha!" - Released on December 25, 2019

2nd Opening of the 2019 Duel Masters!! anime




"Kyoumei Contrast" - Released on December 25, 2019

Insert song for the smartphone game adaptation of

Lookism




"Calendar Reminder" - Released on February 26, 2020

Theme of Urashimasakatasen no Nichijō



List of Covered Songs
Edit
UraShimaSakataSen Sang It Tour
Edit
Urata, Shima, Sakata and Senra all individually released a song on 10th February 2018, but all were grouped under a mylist titled "UraShimaSakataSen Sang it Tour", following a "Spring" theme. It is unknown if they will continue updating their "Sang It Tour", however it is likely they will go by seasons if they continue to do so.
Discography
Edit
USSS are NEWS's fans, and they sometimes act as if they were NEWS members.
Trending pages
All items (7)
Community content is available under
CC-BY-SA
unless otherwise noted.