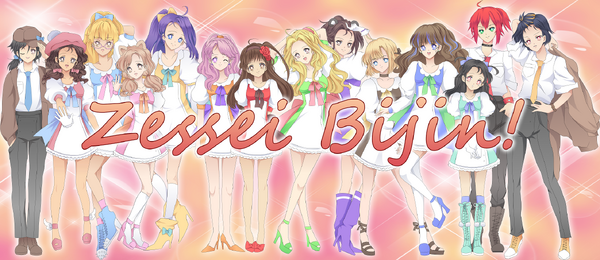 From left to right: Rimi, Poucet, acca, Miri, DeeDee, Buggy, Moon, Minnie, Beibi, Ariah', Serena, Sia, Ankoku and Usachii
Zessei Bijin! (, lit. Absolute Beauty) is an all-female YouTube chorus group, formed by Minnie and Aiko while working as a producer and mixer for DUBattle Royale.[1] They officially formed on February 03, 2011 and actively uploaded covers until May 2016. Their most popular upload is an acoustic cover of the AKB48 song "Kaze wa Fuiteiru", which has over 38K views on YouTube as of Sept 2017.
They usually sing in Japanese, but they have also sung in English and Korean, covering a variety of songs from J-Pop and K-Pop, anime songs, VOCALOID songs, and more.
They often collaborate in their covers, featuring the vocals or instrumentals of other YouTube arists or groups. They also often upload covers celebrating group anniversarys and birthdays.
Some of their members participated in the DUBattle Royale in Zessei Bijin!'s debut, and made it to the semi-finals. Some of their members also made it to the semi-finals of the VOCA★FUSION Chorus Battle. Two of their members, Beibi and Tonkhai, entered and won the KCE Duet Battle 1. Some of Zessei Bijin!'s members also participated in the Serendipity Chorus Battle in the group RE:CHORD, which made it to the final round.
In late 2012 they had auditions for new members.[2] Fifty singers moved past the auditions, and 10 or less moved onto the next round.[3] Finally, they added Serena, acca, and Ankoku to their members roster.[4]
Their team is multi-talented, consisting not only of singers but of mixers, artists and animators. Many of Zessei Bijin!'s covers have original PVs.
Full detailed list here
List of Songs
Edit
Songs on SoundCloud
Edit
References
Edit
Trending pages
All items (15)
Community content is available under
CC-BY-SA
unless otherwise noted.